The social work Code of Ethics ensures social workers adhere to values, principles, and standards that benefit society and social work practice as a whole.
Social workers are not only highly skilled, but they are also value-driven. When licensed clinical social workers face complex ethical dilemmas, the social work Code of Ethics is the first resource they consult.
Read on for our primer on the social work Code of Ethics and how it can help you become a better social worker.
What Is the Social Work Code of Ethics?
The National Association of Social Workers (NASW) Code of Ethics guides social workers' conduct. It consists of four parts: a preamble, a statement of purpose, the Code's Six Guiding Principles, and standards of conduct.
The Code of Ethics was first written in 1960 and is updated nearly every year. The 2021 revision to the code emphasizes the importance of professional self-care in social work so practitioners can properly assist their clients while taking preventative care of themselves to avoid compassion fatigue.
Six Core Social Work Values
The NASW's core values set ideals that should inform social work practice for all. Social workers need to commit themselves to the NASW's six core values: service, social justice, the dignity and worth of each person, the importance of human relationships, integrity, and competence.
The 6 Core Values of Social Work Professionals:
Service
Social Justice
Dignity and Worth of the Person
Importance of Human Relationships
Integrity
Competence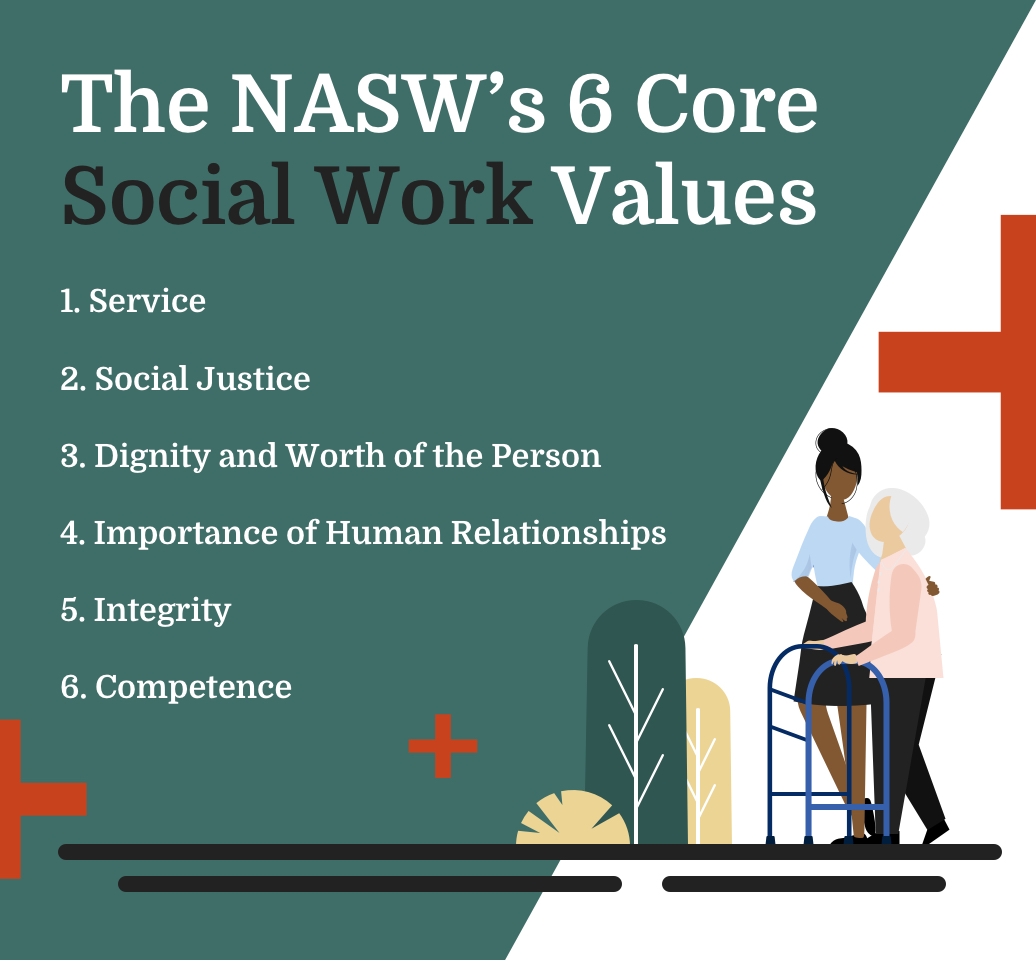 Service
Social workers enact the value of service by helping others. When social workers take on assignments that aid others but lead to little financial compensation or personal prestige, they are committing to service. Social workers may choose to do pro-bono work or accept low earnings as a reflection of their commitment to empowering humanity.
Social Justice
Social workers show their commitment to social justice by advocating for marginalized groups and educating others about discrimination, poverty, unemployment, and all other forms of injustice. Social workers need to show sensitivity to racial, cultural, ethnic, and religious issues tied to oppression and injustice through their actions as well as through their words.
Dignity and Worth of the Person
Social workers recognize the uniqueness and worth of each client. They treat clients with respect and dignity while recognizing the individual value every individual brings to the world. Social workers help clients integrate into society in ways that respect their inherent worth and individuality while also empowering them to achieve their stated goals.
Importance of Human Relationships
In order to effect positive change in the life of clients, social workers value relationships that give their clients meaning and purpose. Social workers connect clients with community resources and/or supports to help them recover, so performing this task strengthens not only the clients' emotional lives, but also the lives of the family, friends, and acquaintances who support them.
Integrity
Social workers embrace honesty and responsibility in their actions, providing an example for future professionals. They also respect the value of self-care and know when personal difficulties might infringe on their ability to be effective in their work.
Competence
Social workers display a commitment to continuing education and training. They are committed to keeping their skill set sharp and attuned to contemporary issues. Ultimately, social workers strive to make meaningful contributions to the field's knowledge base.
Why Is the Code of Ethics Important?
The purpose of the social work Code of Ethics is to set consistent values, principles, and standards of conduct for all in the profession of social work. The code models how social work should be conducted in order to help disadvantaged, marginalized, and disabled people reach their full potential.
Upholding the Code of Ethics means upholding its values and behaving in a way that honors ethical concerns like informed consent, cultural competence, and appropriate patient-provider relationships.
All social workers, including those with niche job titles — e.g., forensic, medical, and psychiatric social workers — need to adhere to the Code of Ethics. Failing to follow the code and its social work values can result in loss of job or revocation of one's social work license.
Popular Social Work Programs
Learn about start dates, transferring credits, availability of financial aid, and more by contacting the universities below.
Becoming an Ethical Social Worker
Due to the importance of observing the NASW Code of Ethics in social work practice, social workers spend much of their schooling learning the values, principles, and standards they will need to understand and follow the NASW code.
Accredited BSW, MSW, and social work doctoral programs discuss these issues through courses on cultural competency, ethics in social work, and social work law and policy. If you plan to earn an online BSW or an online master's in social work, expect to take all these courses.
Social work programs must promote and adhere to the Code of Ethics to receive accreditation from the CSWE (Council on Social Work Education). However, ultimately it is the student's responsibility to leverage their coursework, clinical experience, and training to internalize these ethics. Students can do this by studying the code and staying current on contemporary literature in social work issues.
Social Work Ethics Resources
Social workers can develop their ability to practice core social work ethical values in ways that go beyond what they learned while pursuing their social work degree. Social workers can teach themselves by being receptive to community voices, reading contemporary literature, and acting on advice offered by professional organizations.
Books
These books cover topics relevant to the social work Code of Ethics, often in an easy-to-understand format. Keep in mind that this list only represents some helpful examples and is not meant to be exhaustive.
Social Work Professional Organizations
Joining a professional organization can help social workers refine their abilities as ethical social work practitioners. Engaging with a broader community's diverse voices can provide you with insight you may not have found on your own.
Consider joining a professional organization like these to become a better social worker.
Matthew Sweeney
Matthew Sweeney received his Bachelor of Arts in English with a specialization in English literature from Portland State. His writings on music and culture have appeared in the publications Eleven PDX Magazine and Secret Decoder. In his free time he enjoys reading, cinema, hiking, and cooking.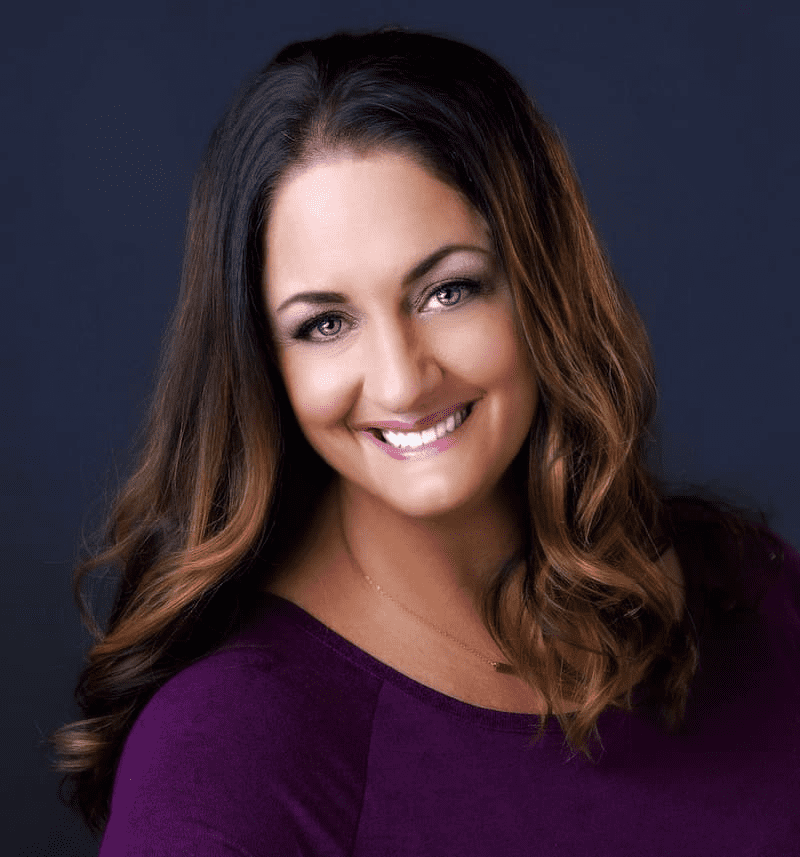 Reviewed by: Melissa Russiano, LCSW, LISW
Melissa Russiano is a Licensed Clinical Social Worker in private practice who has organically developed a specialty working with helping professionals. Russiano has a proven track record helping professionals avoid burnout by holding clinicians accountable through laughter, tears, blunt (yet very supportive) feedback, and quirky analogies that are grounded in solid theoretical research. Russiano practices solely in a virtual setting in the states of California, Florida, Ohio, Pennsylvania, and Tennessee. In addition, Russiano is a professor, teaching in a graduate program through Simmons University online.
Popular with our students.
Highly informative resources to keep your education journey on track.
Take the next step toward your future with online learning.
Discover schools with the programs and courses you're interested in, and start learning today.