TheBestSchools.org is an advertising-supported site. Featured or trusted partner programs and all school search, finder, or match results are for schools that compensate us. This compensation does not influence our school rankings, resource guides, or other editorially-independent information published on this site.
Are you ready to discover your college program?
Top SAT Prep Courses
Beth co-founded and formerly served as an educator and executive director for Opus in Louisville, Kentucky, a nonprofit organization aimed at preparing high school students for a successful college career through a comprehensive ACT course. She has more than five years of experience in education, teaching and developing curriculum for public schools and nonprofits in subjects ranging from college test prep to art history to animation to English for Speakers of Other Languages (ESOL).
If college is in your near future, you are probably feeling a lot of emotions: excitement, determination, and maybe even some confusion or stress. Chances are, standardized college admissions tests might be part of your confusion and stress. The SAT, required for admission to many colleges and universities, can be quite challenging and also really different from the tests you take at school. Taking an SAT prep course can help you become familiar with the exam, develop skills and strategies, and ultimately raise your score. If you are already juggling school, homework, extracurricular commitments, and more, online SAT prep can be the perfect way to study for the exam in a way that fits you and your schedule.
More SAT Prep Articles
---
More Feature Articles
This article ranks the 10 best online SAT prep programs, and gives information to help you find an SAT prep option that's right for you. We have included everything you need to know in order to find an online SAT prep course that works for you, should you decide it's a good next step in your college application journey.
What is the SAT?
The SAT is a standardized test used for college admissions in the United States. College admissions officers often look at these scores together with your transcript, essays, extracurricular activities, and other aspects of your application to decide whether or not you are a good fit and ready to pursue a degree at their school. Scores on the SAT range from 400–1600 (the SAT scoring method is pretty complex; if you plan to take the test, it's worth studying up on, or asking your online ACT coach or tutor!), and the test is made up of Reading, Writing & Language, and Math, and includes an optional Essay section.
Should I take the SAT or ACT?
The SAT and ACT are both college admissions tests, and most colleges will accept your score from either test. If the colleges you are applying to will accept either score, you can take either or both exams. The SAT has three sections…. Reading, Writing & Language, and Math…. while the ACT has four sections…. English, Math, Reading, and Science. The SAT gives you more time per question than the ACT, and tests you explicitly on vocabulary, while the ACT tests you on science reasoning skills. Ultimately, the test or tests you should take comes down to you and your skills, preferences, and goals. It's good to take some time to research both the SAT and ACT, look at sample questions from each exam, and think about your skills and preferences.
What does a higher SAT score mean for me?
Many colleges and universities require a certain SAT score for admissions. Depending on where you want to go to school, you likely need to take the SAT to get into college. Your SAT score can also determine what classes you take: a low score might put you in remedial classes, while a high score can earn you credit for certain core college classes, without having to take the class! SAT scores are also a big factor for many merit-based scholarships and can help you win scholarships from your school and other organizations. Whether it's gaining admission to your dream school, letting you opt out of remedial classes, being able to skip a freshman math class during your first year of school, or earning a big scholarship, working towards a higher SAT score can be beneficial, whether you have never laid eyes on the test before or have taken it multiple times but think you can improve.
Get FREE info from Testive Learn More @ CollegeVine
Is online SAT prep right for me?
There are thousands of ways to study for the SAT…. from books to online courses to in-person tutors…. and it can be hard to know where to start. Online prep is likely a good fit for you if you can study with some independence. You might have to take the initiative by working through lessons on your own or logging on to attend an online tutoring session, but this also means you have lots of flexibility. Just because you are studying online doesn't mean you are alone. Many of the courses on this list include access to a tutor or coach that will help you through the course. Online prep is great if you want to prepare for the SAT with a little bit of independence, anytime, anywhere.
Ranking Criteria
The following online SAT prep options were selected based on quality of course, price, duration of course, and other extras like personalization, number of practice tests, accessibility, and point increase guarantees. However, it's important to remember that the SAT prep that's ideal for you relies some on your personal preferences. Just because a course option is on this list, doesn't mean it's the best course for you, so read through the list with your preferences and needs in mind.
1.

Khan Academy–SAT Test Prep

Mountain View, California
Khan Academy is a personalized learning resource with the goal of providing a free, world-class education for anyone, anywhere. Khan Academy has tons of practice exercises and instructional videos that users can access through a personalized learning dashboard covering a variety of subjects, from Computer Engineering to Macroeconomics to SAT Prep. Khan Academy's SAT Test Prep course is unique because they've partnered with The College Board, the provider of the SAT to create an official SAT prep course.
Not only is Khan Academy's SAT Test Prep course free, it was created in collaboration with the test makers themselves. Win-win! SAT Test Prep includes eight official, full-length practice tests, 1000s of practice questions, video lessons and tips, a tailored practice plan, and instant feedback. In 2017, Khan Academy and The College Board studied the course's impact on student success. They found that 20 hours of practice on Khan Academy was associated with an average 115-point SAT score increase, nearly double the average gain for students who didn't take the Khan Academy SAT Test Prep course.
Duration: Forever
Price: Free
Recap: It doesn't get much better than a free, official, personalized, research-based SAT prep course, so check out Khan Academy's SAT Test Prep.
2.

The Princeton Review–SAT Prep

Framingham, Massachusetts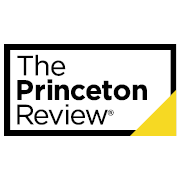 You have probably seen The Princeton Review's name in one place or another. Founded in 1981, this college admission services company offers a number of resources, including test prep, tutoring, admissions help, and books. In addition to several SAT prep books, they also offer online courses that are more interactive and digestible than their books. If you want SAT prep that's as comprehensive as an 800+ page book from an established test prep publisher, but a little easier to carry around, take a look at The Princeton Review's SAT Prep.
The Princeton Review has several options for SAT Prep. You can take a completely self-paced course, an expert-led program, or a personalized private tutoring program. The Self-Paced package includes a comprehensive SAT course with personalized on-demand lessons (you also get access to a complete ACT course as well). With the Ultimate Classroom option, you get 25 hours of live instruction from an SAT expert and four proctored practice tests, as well as access to the self-paced SAT and ACT courses. In the Private Tutoring Program, you can work with a one-on-one tutor for 18 hours to build a plan, set goals for yourself, and prepare for the SAT. With every one of The Princeton Review's SAT Test Prep options, you get lots of video content, practice tools, and various types of guidance throughout your SAT studies. Each course comes with a satisfaction guarantee, so if you aren't happy with your SAT score after using The Princeton Review, you can prep again for free or get your money back.
Duration: Varies based on course
Price: $99, $1099, or $3000
Recap: If you are looking for SAT prep from a trusted, established source, but want more than a book, one of The Princeton Review's self-paced or tutor-led courses could be perfect for you.
3.

PrepScholar–New SAT Prep Online Course

Cambridge, Massachusetts
PrepScholar offers online test prep courses for the SAT, ACT, GRE, and GMAT. The people who create and teach their courses have scored in the 99th percentile or higher on the test they teach. All of PrepScholar's courses are customized, so you can focus on your specific needs while prepping for the test you are up against.
PrepScholar's SAT Prep Course offers a personalized course focused on your unique needs, skills, and schedule. You can choose from several levels of tutoring, based on the amount of instructor involvement in your SAT prep. With the SAT Online Prep option, you have full access to the PrepScholar SAT program, as well as a customized learning path with 60+ hours of video content and 1200+ practice questions. PrepScholar Classes are ideal if you are looking for more face-to-face time with an instructor; these classes include everything in the SAT Online Prep package plus 18 hours of small group classes based on your pace and level. The Coaching option allows you to work through the SAT Online Prep course with one-on-one guidance from a tutor for either four, twelve, or fifty hours of individual instruction. PrepScholar is sure you will improve with them; they offer a money back guarantee if you don't improve by at least 160 points on the SAT.
Duration: One year of access to course materials
Price: $600, $895, or $995-$6995
Recap: If you are looking for personalized curriculum, lots of video content and practice questions, and the option of working with a tutor, PrepScholar could be a great fit.
Popular Online Bachelor's Programs
Learn about start dates, transferring credits, availability of financial aid, and more by contacting the universities below.
4.

ePrep–SAT Courses

Princeton, New Jersey

Leaders in online, video-based test prep since 2007, ePrep offers standardized test tutoring that is both engaging and thorough. Courses at ePrep are based on their methodology of test, grade, review, repeat. They believe that any student willing to put in the time and effort can improve their test scores. That being said, ePrep courses are designed so that you don't waste any time, and you can just focus on improving your score!
The SAT Courses at ePrep include answer-explanation and subject-matter videos featuring engaging SAT experts. Courses vary in length of access, but each course includes practice tests, video answers to every question, video lessons by subject, and a vocabulary builder. With three Test Date Courses to choose from, you can sign up for a class that gives you Express, Standard, or Premium access to your course materials for two, four, or six months. You can also choose between two Annual Pass options, Standard+ and Premium+. Both of these courses include 12-month access and Premium+ includes even more video content. You can also take an ePrep bundled course that includes SAT prep as well as PSAT or ACT content.
Duration: Two, four, six, or twelve months
Price: $129, $249, $299, $399, or $599
Recap: If you are looking for comprehensive, engaging video content to help you prepare for the SAT, ePrep has lots of options to fit your needs.
5.

CollegeVine–Online SAT Tutoring Program

Cambridge, Massachusetts

CollegeVine's Online SAT Tutoring Program is focused on helping busy students effectively prepare for the SAT. The tutors and curriculum creators at CollegeVine realize that high school students have lots going on, so their programs are designed to maximize study time for optimal score improvement. CollegeVine's programs also support parents throughout the test prep process, sending regular score reports to parents about their student's progress. All of CollegeVine's SAT prep courses include a diagnostic exam, a custom tutoring plan, passionate tutors, and score prediction tools. The comprehensive diagnostic exam helps students understand their strengths and weaknesses in each SAT section and allows their tutor to design an SAT program tailored to their student's individual needs. This allows students to spend time focusing on the key concepts they really need to improve, rather than just re-learning ones they may have already mastered.
Duration: 6, 10, or 16 weeks
Price: $1,000–$2,400
Recap: If you're looking for SAT tutoring that fits your busy schedule, CollegeVine has flexible, personalized SAT prep programs that support students and parents in studying towards higher scores.
6.

Magoosh–Online Prep for the New SAT

Berkeley, California
Magoosh is an education company run by a bunch of (self-proclaimed) education nerds who want to help students achieve their academic dreams. They offer test prep for a number of tests, including the SAT, ACT, and GRE. In addition to test prep courses, they offer several awesome apps, two of which made our list of the 20 Best Self-Guided ACT Resources.
Magoosh's Online Prep for the New SAT is ideal for self-studiers, video-lovers, and busy students. The course features 140+ video lessons, 400+ practice questions, and study schedules to guide your practice. The material is very close to the content of the official SAT and is ranked by difficulty so that you can master the basics and move closer to your goal score. You can get access to the course for varying lengths of time, depending on how long you need to prep. All options include email assistance, a seven-day money-back guarantee, and a 100-point score improvement guarantee.
Duration: One, three, or six months
Price: $79, $89, or $99
Recap: If you are looking for flexible, video-centric SAT prep, Magoosh has prep that might just be perfect for you. While you are checking them out, take a look at their free Study Timer and SAT flashcard apps.
7.

Kaplan–SAT Prep

Fort Lauderdale, Florida
Chances are, you have heard of…. or even benefited from…. Kaplan and their many educational resources. Even if you have gone to one of their tutoring centers or used one of their study books, you may not have realized that Kaplan offers a range of online SAT Prep Courses.
When you take any of Kaplan's SAT Prep courses, you will gain access to an interactive classroom led by expert instructors. If you are looking for a self-paced option, the SAT Live Online Essentials package lets you work through 40 hours of video lessons at your speed, on your schedule. Kaplan's SAT Prep Course includes six hours of live instruction, practice tests, on-demand lessons, and tons of quizzes and prep resources. SAT Prep Course PLUS gives you access to all of those resources in addition to three hours of private coaching. With the Unlimited Prep option, you can take Kaplan's SAT Prep Course as many times as you want until December of your senior year (you can also take unlimited PSAT or ACT courses). Finally, the Tutoring package lets you work through an ACT Prep Course with 12, 24, or 36 hours of customized, individual instruction. If you don't improve after taking a Kaplan SAT Prep course, they allow you to retake a course or get a refund.
Duration: Varies based on course
Price: $599, $899, $1399, $1599, or $2599-$5699
Recap: Kaplan…. a well-known name in education…. offers a number of SAT prep courses to help you study for the exam, whether you are looking for a self-paced course, to study for multiple college admissions exams, or to spend a lot of one-on-one time with an online tutor.
8.

Private Prep–SAT

New York, New York
Private Prep is a tutoring company that offers test prep, academic support, and college prep services. Their tutors focus on helping students live up to their full potential, through confidence building, engaging instruction, and encouraging students to work hard. No matter the content you are working on with Private Prep, they provide personalized curriculum to meet your learning style and academic needs.
Since Private Prep is all about customized learning, there isn't a standard SAT course that they offer. You do an initial, free consultation with a Private Prep coach in which they get to know you and collaborate with you and your parents to create a personalized study plan. Then, they match you with a coach or team of coaches that's a good fit with your personality, academic needs, way of learning, and schedule availability. After that, it's time to learn with your coach through a learning platform, Zoom, which comes with a digital whiteboard and allows you to record each lesson. Your coach will guide you through a diagnostic test, personalized curriculum, SAT strategies, mental strength and stress relief techniques, and plenty of practice exams to prepare you for test day.
Duration: Varies based on your goals and needs; usually 90 minutes/week
Price: $125-$175/hour depending on tutor experience
Recap: If you need an SAT course built just for you, Private Prep is worth checking into. Their personalized, fun, comprehensive SAT curriculum can help you meet your goals, in the way that works best for you.
9.

Kranse Institute–SAT Prep Expert

Las Vegas, Nevada

Kranse Institute was created with the goal of preparing all students for higher education. They recognized the importance of standardized test scores in college admissions, and so created the Kranse Institute SAT Prep Expert, an online course to help students achieve higher SAT scores. The Kranse Institute SAT course was developed by Shaan Patel, a perfect SAT scorer and Shark Tank winner.
The SAT Prep Expert course is in an easy-to-navigate format, with comprehensible content, proven test-taking strategies, and 24/7 mobile and desktop access. The course is based on 100 strategies developed to prepare you to face the SAT with confidence. SAT Prep Expert video lessons are short so that you can easily and thoroughly digest the course material. Kranse Institute offers a seven-day 100% money back guarantee on the course, as well as a score improvement guarantee.
Duration: 540 days of access
Price: $599
Recap: Kranse Institute's innovative SAT Prep Expert course is perfect if you are looking for easily learnable, bite-sized SAT lessons created by a perfect SAT scorer.
10.

Testive–SAT

Boston, Massachusetts
Testive believes in the power of technology, but also in the power of human interaction. Their test prep utilizes both technology and human coaches to prepare students to succeed on standardized tests. Testive has both ACT and SAT courses, with several prep options. Their prep is focused on working closely with a coach and getting customized content so that you can learn in the way that works best for you.
Testive's SAT courses are focused on preparing you for the test and helping you find peace of mind so that you are not too stressed to do your best. The Bootcamp course is perfect if you are quickly approaching test day. You can work through this course in 4–6 weeks, and it includes two one-on-one video chats with an instructor. The Coaching option allows you to spread the material over more time, and do lots of learning, practicing, and reviewing before test day. This option comes with weekly individual lessons with your Testive tutor. Finally, the Coaching Plus package includes everything offered in the Coaching package, plus an extra one-on-one session each week. This option is ideal for students who are not as independent or need more help with a certain subject. All courses include a two-week free trial and a money back guarantee. If you don't feel the need for a tutor, you can work through the Testive online learning platform and content for free.
Duration: 2–5 months
Price: $800, $350/month, or $550/month
Recap: If you are looking to prep with a coach that's been tracking your progress and working with you consistently, Testive is a great option. Another plus is that Testive specializes their content and instruction for all students, including those with learning differences.
11.

Peterson's–SAT Prep Online Course

Lincoln, Nebraska
Peterson's has a number of college prep resources, including test prep, college admissions coaching, writing help, and scholarship databases. Since the company is focused on more than standardized test prep, you might benefit from other services in addition to their SAT prep.
Peterson's SAT Prep Online Course is SAT prep for everyone, anywhere, anytime. They have a flexible learning platform that lets you work through SAT content on your own schedule. The class is optimized for mobile and desktop platforms, so you are able to study on your phone, tablet, or computer. You can select a short, medium, or long path based on the test date you are signed up for. Peterson's SAT course includes games, full-length practice tests, quizzes, and interactive lessons.
Duration: 12 months of access to course materials
Price: $99.95
Recap: If you don't need a tutor, but do want an interactive, fun, guided path that leads you right up to test day, Peterson's may have the SAT prep course for you.
Everyone learns differently, so this list of SAT prep services consists of a wide variety of courses, tutors, and options to help you master the SAT test. If you are thinking of taking the ACT, we have a summary of top online ACT prep services that's worth checking out. And if you are in the middle of your college search, be sure to take a look at our 50 Best Online Colleges for 2019.
Popular with our students.
Highly informative resources to keep your education journey on track.
Take the next step toward your future with online learning.
Discover schools with the programs and courses you're interested in, and start learning today.