TheBestSchools.org is an advertising-supported site. Featured or trusted partner programs and all school search, finder, or match results are for schools that compensate us. This compensation does not influence our school rankings, resource guides, or other editorially-independent information published on this site.
Are you ready to discover your college program?
When picking a college, you must consider what's important to you and your personal and professional goals.
What factors should you consider during your college search? Prospective applicants should spend some time thinking about things like degree programs, cost, location, school size, and extracurricular options. It's also important to research a school or program's education statistics, accreditation, and prestige. Finally, consider college fit. A flagship public institution might be the perfect fit for one student, while a private liberal arts college may be the perfect fit for another.
After researching these factors, students should schedule a college visit to get a feel for what the campus is like in person. This article provides steps for finding the right college for you.

Degree Programs
What do you want to study in college? Answering that question is the fastest way to narrow your college search. Students interested in unique majors like poultry science or video game design will find that some schools do not offer courses in their field. For students planning to pursue popular majors like business, nursing, and engineering, check school rankings in those fields.
Having a general idea of what you want to study before you pick your college can make the process easier, but you do not need to know your exact major. Narrowing your interests to large categories like STEM majors, the humanities, or education can also benefit your college search.
Once you know your interests, investigate what degree levels are offered by prospective schools and match them to your own educational aspirations. Some schools excel at the undergraduate level, letting students gain research experience or design an interdisciplinary major. Others stand out at the graduate level, with strong medical or business schools.
Finally, prospective applicants should look at what classes potential schools offer. Pay careful attention to schedule options, particularly if you are interested in night or weekend classes.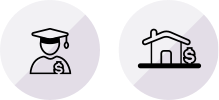 Affordability
For many students, cost is a major factor in the college search. When it comes time to pick a college, you want to make sure the school fits your budget, even after accounting for fees and living expenses.
According to the National Center for Education Statistics, the average public university costs over $20,000 per year, while private universities cost nearly $45,000 per year. On top of tuition, fees, and room and board, students should also consider the area's cost of living and expenses like transportation, extracurriculars, and entertainment.
Prospective students should also research financial aid, as scholarships, grants, and fellowships can lower the cost of a college degree. Many students also rely on loans to help pay for college. Distance learning students can qualify for online financial aid.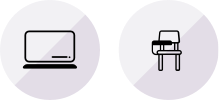 Location
Location may figure prominently in your college search. Some students prefer an urban college in the center of a major city, while others want a rural, small-town college experience. Some students prefer sticking close to home, while others want to explore a new place.
Location can affect the cost of college substantially. Students can typically save thousands by choosing a public, in-state school. On average, in-state tuition costs $17,000 less per year than out-of-state tuition.
Location also affects your ability to receive state financial aid, including grants that support state residents. Prospective applicants should check the most affordable colleges in their state to see how much they can save at an in-state school.
Prospective applicants should also determine whether they are willing to move out of state to attend college or if they would prefer a school close to home. Working professionals, adult learners, and students with families may want to consider online programs, which allow them to attend college without relocating.
Popular Online Bachelor's Programs
Learn about start dates, transferring credits, availability of financial aid, and more by contacting the universities below.

School Size
Small Campus

Campuses come in many sizes, and some students prefer the feel of a small campus. At a small campus, students can get to know each other and build strong relationships with faculty members. For others, a small campus can feel limiting.

What counts as a small campus? Schools that enroll under 5,000 students typically fall into this category — usually private schools, though some public colleges and universities also offer a small campus environment. Keep in mind that a small campus does not necessarily mean a low student-to-faculty ratio.

Mid-Size Campus

Mid-size campuses typically enroll 5,000-15,000 students. Most Ivy League schools fall into this category, as do many public schools. A medium-size school offers a balance between the intimate feel of a small school and the variety of majors, activities, and sports available at a large campus.

When researching mid-sized campuses, prospective applicants consider the student-to-faculty ratio, academic options, and location. Students concerned about fitting in at a larger school should also research orientation activities, campus events, and extracurricular opportunities, which can help incoming freshmen connect and feel at home more quickly.

Large Campus

A large campus generally means more than 15,000 students, though some universities enroll over 50,000. While a large campus can be overwhelming for some students, others see it as an opportunity to explore and meet many different people. Large universities also tend to offer more specialized classes, unique majors, and research opportunities than smaller schools.

Attending a large university does not mean you will get lost in the crowd. Many large campuses still offer low student-to-faculty ratios and small class sizes for seminars and discussion groups. Undergraduates should also consider the size of the school's graduate and professional programs; at many schools, the number of graduate students can inflate student body size, and the number of undergraduates is actually fairly small.

Extracurriculars
College isn't only about the classroom, so your college criteria should include extracurriculars. Some schools even offer scholarships or other forms of financial aid for incoming students based on their extracurricular interests.
What extracurriculars do colleges offer? That depends. At many schools, undergraduates can join fraternities or sororities to participate in Greek life. Most universities have athletics programs, including intramural sports, where students can play football, soccer, baseball, or basketball. Many schools also offer more niche sports, like golf, lacrosse, or crew.
Outside of sports, students can join the choir or debate team, participate in volunteer opportunities, or work on theater productions. Most colleges also host special interest clubs for things like cooking or film studies. If you have a niche hobby, look into whether your potential school has a club for that hobby.

Prestige
For some students, prestige is an important factor during the college search. Earning a degree from a prestigious college can help alumni in the job market or when applying to graduate programs. A school's academic reputation can tell you a lot about the value of your future degree.
When evaluating prestige, students should look at a school's reputation, alumni network, and reputation in areas like sports, extracurriculars, or academics. Faculty reputation can also matter in many fields, so prospective students should look into the school's research programs, grant funding, and faculty publications.


Education Statistics
College brochures do not always tell the whole story. Instead, prospective students need to research colleges according to the data.
What statistics should applicants research? Start with data on admissions, retention, and graduation rates. This information reveals the school's selectivity and te availability of student support services. Next, consider financial information, including the percentage of students who pay full tuition and receive financial aid. Prospective applicants can also look up the average amount of loans students take out.
Finally, research student outcomes. How many students pass certification exams in their field? What is the school's job placement record? How many alumni believe they received a strong education? The National Center for Education Statistics provides data on enrollment, retention, demographics, and other education statistics for many schools, so that's a great place to start.


Accreditation
The most important factor to consider when picking your college is the school's accreditation status. Accredited schools meet high standards for educating students and granting degrees, while unaccredited schools often won't qualify you for the career you want.
Credits earned from an accredited school are more likely to transfer to programs at other schools, and an accredited degree meets requirements for most professional licenses and degrees. What's more, only students at accredited schools qualify for federal financial aid programs.
Learn more about why accreditation matters and visit the Council on Higher Education Accreditation or the U.S. Department of Education to research accredited schools.
Other Factors
Ultimately, finding the right college for you could boil down to any number of factors — or just one big one, depending on your goals. For some students, that factor might be a school's religious affiliation, while others may look at study abroad opportunities or campus culture to find the best fit.
What other factors should students consider? College rankings, student safety, dining options, and campus amenities can all factor into your decision. Dorm life, campus athletics, and a diverse student body can also matter. Students with a strong academic record or unique qualifications may also wish to consider their potential institutional aid package options when choosing schools.
Finally, prospective applicants should consider their chances of gaining admission. Applicants should be realistic about their grades and test scores and make sure they're applying to a range of schools within their qualifications.
Frequently Asked Questions
How Do I Start Looking at Colleges?
The college search starts with several questions: What size school do you want? What location do you have in mind? What is your budget? By answering these questions, prospective students can pick a college that's a good fit for their educational and career goals.
What Is the Average Cost of College?
In 2017-2018, the average net price of college was $13,700 at public colleges and $27,000 at private colleges per year.
What Makes a College Prestigious?
Admission selectivity, history, and prominent alumni can all make a college prestigious. Many prestigious institutions boast long track records in higher education. For example, seven of the eight Ivy League colleges were founded before the American Revolution. Colleges that admit fewer students tend to rank high in prestige, as do schools with extensive alumni networks.
What Is the Difference Between a College and a University?
Technically speaking, colleges focus on undergraduate degrees, including associate and bachelor's degrees, while universities also offer programs at the master's and doctoral levels. Universities typically offer more majors, too. In practice, however, the two terms are often used interchangeably.
Genevieve Carlton
Genevieve Carlton holds a Ph.D. in history from Northwestern University. After earning her doctorate in early modern European history, Carlton worked as an assistant professor of history at the University of Louisville, where she developed new courses on the history of science, Renaissance Italy, and the witch trials. Carlton has published five peer-reviewed articles in top presses and a monograph with the University of Chicago Press. She also earned tenure with a unanimous vote before relocating to Seattle. Learn more about Carlton's work at genevievecarlton.com.
Header Image Credit: pixelfit | Getty Images
Learn more, do more.
More topic-relevant resources to expand your knowledge.
Popular with our students.
Highly informative resources to keep your education journey on track.
Take the next step toward your future with online learning.
Discover schools with the programs and courses you're interested in, and start learning today.