How to Choose the Right Engineering Program
thebestschools.org is an advertising-supported site. Featured or trusted partner programs and all school search, finder, or match results are for schools that compensate us. This compensation does not influence our school rankings, resource guides, or other editorially-independent information published on this site.
Are you ready to discover your college program?
Engineering is an exciting field that offers lucrative opportunities for highly educated, technically skilled professionals.
This primer can help you choose the right engineering program to help you achieve your personal and professional goals.
What Is an Engineering Degree?
A bachelor's degree in engineering can come with a variety of specialties, but in general, they focus on designing or improving systems, products, and processes for organizations. Core curricula usually cover engineering principles, design theory, and advanced mathematics — like calculus — and typically take four years to complete.
Both on-campus and online engineering programs usually provide specialization options and opportunities to earn dual engineering degrees, especially for related engineering disciplines. Specialization options tend to be diverse, and they can include areas like software, civic, electrical, and petroleum engineering.
What Kind of Traits Do You Need to Become an Engineer?
Many engineers have strong attention to detail and are meticulous. They often demonstrate interest in learning how things work from an early age, usually by solving puzzles and deconstructing things to put them back together again. A desire to help people through technology, products, and infrastructure also contributes to becoming an good engineer.
How to Choose the Right Engineering Program
Though choosing an engineering program may initially seem daunting, carefully weighing the factors that influence a program's success can help you sort things out and draw useful conclusions. Read on for some guidelines for choosing the right engineering program for you.
To choose the right engineering school, you should first prioritize the programs that offer specializations that align with your personal and professional interests. Engineering encompasses a range of industries, so narrowing your research by specialization ensures you choose a program that will meet your needs. When choosing a specialization, remember to consider the work environments where you feel most comfortable. For example, if you find working in a laboratory interesting, you can pursue a bioengineering degree. If you can see yourself working in a factory, an industrial engineering degree may be a better fit.
While engineering roles are generally lucrative, some areas pay more than others. For instance, BLS data shows that the median salary for petroleum engineers reached $137,720 in 2019 — $50,000 more than that for civil engineers. Given the choice between two careers that interest you, comparing entry-level pay rates may influence your decision.
You should only consider engineering programs with ABET accreditation. Programmatic accreditation ensures that programs meet global educational standards within specific professional fields. Many employers require job candidates to have graduated from schools with ABET accreditation, and many financial aid resources will only support students at regionally accredited schools.
It's important to explore the curriculum of any prospective school before applying. Curricula for engineering programs can vary widely in terms of core topics, electives, and practicum elements. Make sure that the program covers topics that interest you and will help you excel in your chosen specialty after graduation.
Give careful consideration to an engineering program's reputation. A good way to do this is to check the professional reputations of the professors teaching the program. Quality engineering professors were often at the forefront of their field before switching to careers in education, and they usually have degrees beyond a simple bachelor's degree. Researching notable alumni can also lend insight into a program's quality. Choosing a program with a healthy reputation can greatly boost your chances in the job market upon graduation. It also increases the chances that you will find brilliant and inspiring people to network with while still in school.
Many schools — like MIT, for example — partner with well-known corporations and institutions to offer their students internships with industry leaders. Find a program that has offerings like this and take advantage of them. Scoring an internship with a well-regarded company can greatly aid you in your job search after graduation — or even lead to a paid position working for the company where you interned.
If you aren't studying online, location probably plays a major role in your program choice. In addition to considering a school's proximity to you, consider its proximity to potential future employers. Engineering schools often have networking connections with local businesses; for instance, if software engineering interests you, you might want to pick a program located within a bustling tech hub, like San Francisco, Seattle, or Houston. That way, you can build local business connections before you graduate
What Kind of Engineering Degrees Are There?
Engineering degrees can prepare learners for a variety of careers. The following list of engineering degrees represents some of the most common degrees held by people working in the engineering field and their median annual salaries, though it does not encompass the whole array of possible engineering degrees.
$116,500
Aerospace Engineering
Aerospace engineers design aircraft and spacecraft — work that people colloquially refer to as "rocket science." These aeronautical and astronautical engineers study elements of air and spacecraft design, including radar systems engineering, astrodynamics, and control engineering.
$91,410
Biomedical Engineering
Biomedical engineers apply engineering principles and concepts to developing medicine and biology-related healthcare products. A biomedical engineer might help advance biocompatible prosthetic technology to replace missing limbs and body parts, develop diagnostic medical imaging tools such as MRIs, or design technology to manipulate genetic material.
$108,770
Chemical Engineering
Chemical engineers deal with chemical production and the use of chemical processes in manufacturing. Their work can include making plastics and resins, developing nanomaterials, or even nuclear engineering, depending on whether they work in industrial manufacturing or developing new products. They can also work as supervisors in offices, laboratories, and industrial settings.
$87,060
Civil Engineering
Civil engineers design physically built infrastructure, such as bridges, sanitation systems, and roads. Many modern civil engineering degrees now include sustainable civil engineering as part of their curricula, which mitigates negative effects on the environment while still providing for human needs.
$88,020
Industrial Engineering
Industrial engineers design, create, and implement systems that allow modern manufacturing to function efficiently and safely. These engineers optimize processes to create new products through strategies like statistical analysis, quality control, and computer simulation.
$88,430
Mechanical Engineering
Mechanical engineering is one of the broadest areas within engineering. It involves overseeing the moving parts that make up various products, machines, and systems to occupy, using engineering, physics, and mathematical principles to design, test, and analyze various components. Because it is such a broad field, mechanical engineers can find work in nearly any industry — especially manufacturing and construction.
$137,720
Petroleum Engineering
Petroleum engineers leverage engineering principles and design concepts to benefit oil and natural gas industries, whether by designing new technologies for extracting fossil fuels from the Earth or making drilling in older wells more efficient. In modern times, these engineers can also find work with environmental oversight agencies, helping regulate and mitigate the environmental effects of the oil industry.
$107,510
Software Engineering
Software engineers help develop computer programs, systems, and applications. These can include creating desktop and mobile applications, games, and network systems. These engineers usually work in offices or from home, using programming languages, databases, and organizational frameworks to create and test new products.
Find the Right Engineering Degree for You
Use our helpful tool to find the right engineering degree for you. Ready to learn more about your chosen degree or find top ranking programs? Find links below!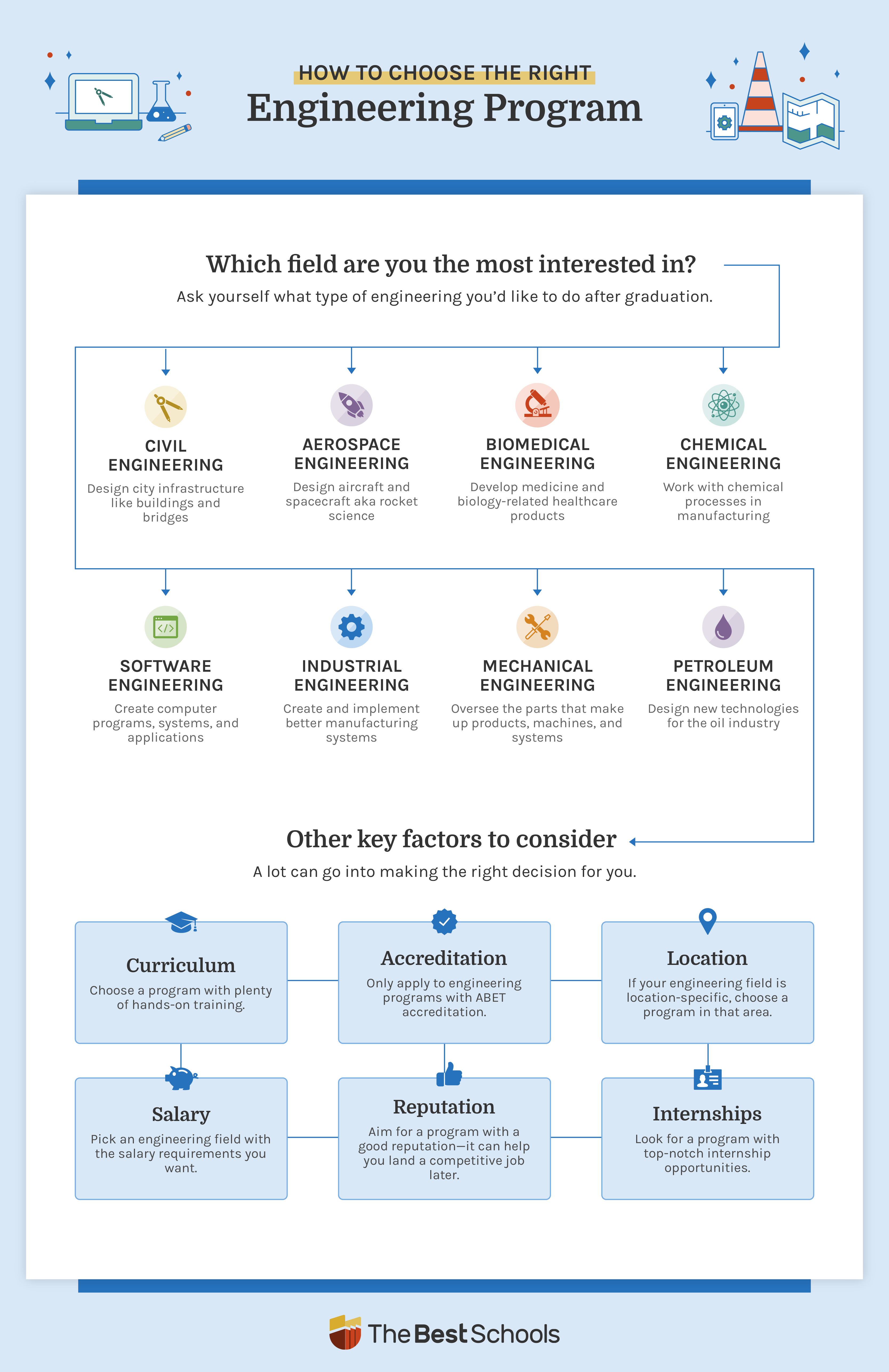 Download This Image
Learn More About Your Chosen Degree
Frequently Asked Questions
How Do I Know if Engineering Is Right for Me?
Engineering is a challenging field, regardless of specialization, which is why some people choose it. If you have a strong aptitude for math and the hard sciences and like to be challenged in your work, engineering could be the right career choice for you.
What Is the Most Useful Engineering Degree?
Different engineering degrees fit the interests and aptitudes of different learners. For example, if you like computer-related work, then a software engineering degree will be the most useful for you. However, different types of engineers experience different levels of demand in various states. Look up career options local to you before choosing a specialization.
What Makes a Good Engineering School?
A strong engineering program is offered by a regionally accredited university and is itself programmatically accredited by the Accreditation Board for Engineering and Technology (ABET). Good schools also maintain positive reputations among employers and professional organizations within the engineering field.
How Much Do Engineers Make?
Salaries vary by specialty and location, but engineers tend to make a comfortable living. For example, PayScale reports that mechanical engineers make $54,000 annually at the 10th percentile and $99,000 annually at the 90th.
Which Engineering Degree Has the Highest Salary?
Data from the Bureau of Labor Statistics (BLS) indicate that the highest paying types of engineering careers include petroleum, aerospace, and chemical engineering. These jobs pay median salaries of well over $100,000.
Image Credits: Artem Varnitsin / EyeEm | Getty Images; Wikimedia Commons
Learn more, do more.
More topic-relevant resources to expand your knowledge.
Popular with our students.
Highly informative resources to keep your education journey on track.
Take the next step toward your future with online learning.
Discover schools with the programs and courses you're interested in, and start learning today.