The 30 Best Online Master's in Gifted & Talented Education Programs
thebestschools.org is an advertising-supported site. Featured or trusted partner programs and all school search, finder, or match results are for schools that compensate us. This compensation does not influence our school rankings, resource guides, or other editorially-independent information published on this site.
Are you ready to discover your college program?
The 21st century is an exciting time for gifted education teachers. With the recognition of multiple forms of intelligence and advancements in gender equality, talented students have more opportunities today than ever before. A master's in gifted education online prepares you for an instrumental role in the development of exceptional students' abilities. According to Payscale, gifted teachers bring home more $45,000 each year. The U.S. Bureau of Labor Statistics projects a 10% increase in employment for instructional coordinators, including 16,500 new positions.
Featured Online Schools
Online Master's in Gifted and Talented Education Degree Program Ranking Guidelines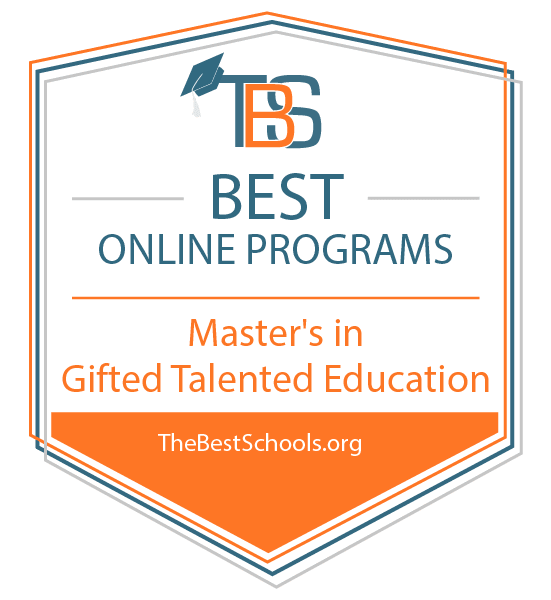 We selected the degree programs based on the quality of program and range of courses provided, as well as school awards, rankings, and reputation.
Our Methodology
Here at TheBestSchools.org, we take the trust and welfare of our readers very seriously. When making our school and program rankings, our top priority is ensuring that our readers get accurate, unbiased information that can help them make informed decisions about online education. That's why we've developed a rigorous ranking methodology that keeps the needs of our readers front and center.
Our proprietary, multi-criteria ranking algorithm analyzes key data indicators — as collected by the federal government — for each school or program. What data we use depends on the focus of each specific ranking, but in all cases, our ranking methodology is impartial: Schools cannot buy better rankings at TBS.
While specific criteria under consideration can vary by ranking, there are a few data points that we value most highly. They are affordability, academic quality, and online enrollment. Below, we break down our algorithm to help you understand what you're getting when you use one of our rankings.
Academics
Affordability
Online Enrollment
Data Sources
The data used in TBS rankings comes primarily from the federal government, and much of it is provided by the schools themselves. We aggregate and analyze this data to build our rankings.
The Integrated Postsecondary Education Data System (IPEDS) is our primary source. Its data comes from annual surveys conducted by the U.S. Department of Education's National Center for Education Statistics (NCES). Every college, university, or technical school with access to federal financial aid must participate in these surveys, which include questions about enrollment, graduation rates, finances, and faculty qualifications. This is publicly available data, which you can access yourself through the College Navigator.
Additionally, because we value a personal touch and the professional experience of our staff and Academic Advisory Board, we vet all results and adjust rankings as necessary based on our collected knowledge of schools and degree programs. Depending on the ranking, we may obtain additional input from AcademicInfluence.com, subject matter experts, prior TBS ranking lists, or other sources we deem relevant to a particular ranking.
Breakdown of Our Rankings Methodology
About Our Ranking Factors
Here at TBS, we value what you value: quality education, affordability, and the accessibility of online education. These factors guide all of our program rankings.
Each of these factors are further broken down into weighted subfactors. For example, retention rates are weighted more heavily than availability of program options because they are a better indicator of student success.
We chose the following factors for our rankings because of their influence on learning experiences and graduate outcomes. However, students should always balance our rankings against their personal priorities. For instance, a learner who needs a fully online program may prioritize online flexibility more than our rankings do. Our rankings are designed to help you make a decision — not to make a decision for you.
In all our school rankings and recommendations, we work for objectivity and balance. We carefully research and compile each ranking list, and as stated in our advertising disclosure, we do NOT permit financial incentives to influence rankings. Our articles never promote or disregard a school for financial gain.
If you have questions about our ranking methodology, please feel free to connect with our staff through contact page.
We thank you for your readership and trust.
The Best Online Master's in Gifted and Talented Education Degree Programs
Return to the top
Choosing a Program
Professionals who earn their master's in gifted education online equip themselves with the expertise needed to meet the unique academic needs of gifted students. Gifted teachers cultivate enriching learning environments that go beyond standard curriculum requirements of traditional classroom settings. Gifted education teachers receive specialized training that emphasizes teaching students with talent. Graduates of online gifted education programs demonstrate cultural sensitivity and knowledge of learning theories appropriate for the instruction of exceptional students. They possess the ability to select, administer, and score assessments.
Most master's in gifted education online curricula consist of core and specialized courses. Core courses familiarize students with common instructional practices used in school settings as well as current and historical theoretical perspectives of the field. Students examine the social and political factors that shape education and their role in the establishment of norms that bring about change. Frequent topics of a gifted education program include curriculum development, classroom management, and professional collaboration.
Specialized courses allow educators to choose a area of interest. Possible concentrations in this field include gifted education administration, gifted education in elementary school, and gifted education in secondary school. All degree candidates must complete a teaching practicum near the end of their program.
Return to the top
Online Master's in Gifted and Talented Education Careers
Featured Online Schools
Graduates of an online gifted education program work in instructional and administrative capacities in a variety of academic settings. The following careers are commonly pursued by professionals with a master's in gifted education. These professionals value student success and demonstrate patience and compassion in the classroom.
Gifted teachers at the primary level may see different groups of children daily or weekly. Their responsibilities include developing engaging lesson plans, communicating with parents, and maintaining a positive classroom culture. While the minimum degree requirement for elementary school teachers is a bachelor's degree, earning a master's in gifted education online expands employment opportunities.

Median Annual Salary: $55,490
Projected Growth Rate: 7%

Typically working with 6th through 8th graders, middle school teachers have similar duties as elementary school teachers. Gifted education middle school teachers may teach children who excel intellectually across a broad range of areas, or they may specialize in the instruction of students with high aptitudes in a specific subject such as art or music.

Median Annual Salary: $56,720
Projected Growth Rate: 8%

Job duties of instructional coordinators include developing schoolwide curriculum plans and training teachers in emerging evidence-based teaching practices. They frequently analyze data to assess school performance and implement strategies for improvement. A master's degree is required for employment as an instructional coordinator.

Median Annual Salary: $62,460
Projected Growth Rate: 10%
Source: Bureau of Labor Statistics
Return to the top
Popular with our students.
Highly informative resources to keep your education journey on track.
Take the next step toward your future with online learning.
Discover schools with the programs and courses you're interested in, and start learning today.