The 30 Best Online Master's in Gifted & Talented Education Programs
| TBS Staff
Are you ready to discover your college program?
The 21st century is an exciting time for gifted education teachers. With the recognition of multiple forms of intelligence and advancements in gender equality, talented students have more opportunities today than ever before. A master's in gifted education online prepares you for an instrumental role in the development of exceptional students' abilities. According to Payscale, gifted teachers bring home more $45,000 each year. The U.S. Bureau of Labor Statistics projects a 10% increase in employment for instructional coordinators, including 16,500 new positions.
Featured Online Schools
Online Master's in Gifted and Talented Education Degree Program Ranking Guidelines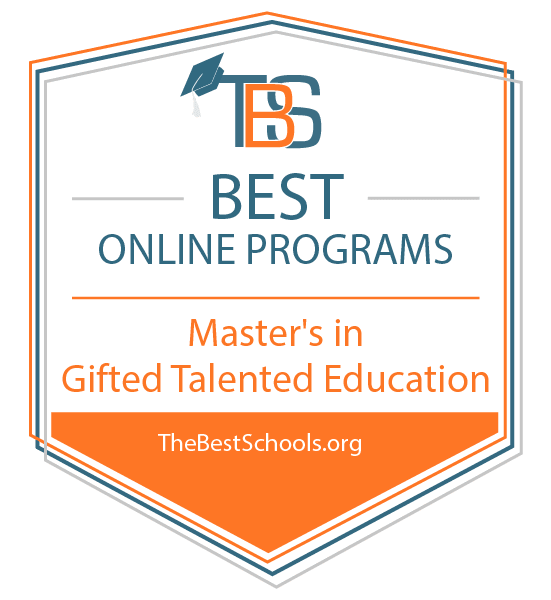 We selected the degree programs based on the quality of program and range of courses provided, as well as school awards, rankings, and reputation.
The motto of TheBestSchools.org is Finding the best school for you. Here is how we do it:
The value of any ranking list of schools and/or degree programs depends on having a methodologically sound assessment of each school's/program's characteristics, especially insofar as these can be objectively measured. A college or university is a complex entity, with numerous factors to consider, and distilling these down to the place where meaningful comparisons can be made to form a defensible ranking list becomes part science and part art.
To meet this challenge—and thereby provide you with the most useful and insightful educational rankings on the Internet — TheBestSchools.org formulates our rankings based on five informational categories (six, when considering online schools). The major metrics and qualities for which we rank are these (with expanded, detailed considerations and weights listed):
1. Academic excellence based on a school's curriculum generally or within the selected discipline [weight = 25%]
Weighs school against known leading schools in that discipline
Weighs number of core curricula listed as advanced courses within that discipline and compares against introductory courses
Weighs school's curriculum against known knowledge needs of major employers in that discipline
Considers number and types of specializations offered within that discipline
Considers faculty expertise in that discipline
Considers range of electives within that discipline
Considers quality of online environment offered to students (if applicable), particularly within that discipline
2. Strength of faculty scholarship [weight = 25%]
Considers education background of the faculty
Considers years of faculty experience both inside and outside of academia.
Considers faculty membership and leadership within relevant, prominent associations
Considers academic papers published by faculty in relevant, prominent periodicals
Considers awards and recognitions given to faculty members from prominent organizations and from other sources
3. Reputation [weight = 20%]
Considers a school's reputation among academic peers and employers regarding the following:

Faculty
Curriculum
"Freshness" of academic knowledge
Adaptability to changes in employment sectors
Suitability of graduates for the workplace
4. Financial aid [weight = 10%]
Mandatory: Requires full accreditation from an agency endorsed by the U.S. Department of Education and listed on the federal register to accept student federal financial aid
Considers range of school-sponsored financial aid such as scholarships and grants
5. Range of degree programs [weight = 20%]
Considers range of degree levels: associate's, bachelor's, master's, and doctoral and professional
Considers range of degree subjects offered, such as art & design, computers & technology, education & teaching, criminal justice, and business
6. Strength of online instruction methodology (if applicable) [weight = 25%; subtract 5% from each of the above for online schools/programs]
Considers the following of the online classes:

Types of online technology used to deliver content
Pedagogy style: asynchronous, synchronous, or both (depending on the degree)
Extent and quality of the online, community learning environment, including options for communication, interactivity, and collaboration between students and also between students and instructors
Variety, breadth, and depth of coursework, and its support, including project options and online tutoring

Considers the following of instructors:

Extent of training for teaching within an online learning environment
Amount of timely, consistent feedback to students
Extent of collaboration with prospective employers to ensure suitability of instructional materials for achieving desired skills
Ratio to number of students in a class

Number and quality of internships in a student's geographical area for applicable degrees
Because students tend to review a variety of information when choosing a school, the weight a student gives any one criterion will vary. For instance, it's not enough to offer a carefully constructed ranking of great schools if many are too expensive or too difficult to get into.
To better serve the needs of prospective students, we are therefore increasingly offering filters that help you better use our rankings to find the schools that match your specific needs. These supplement our ranking criteria and include:
Accreditation
Public or private status
Acceptance rate
Retention rate
Graduation rate
ACT/SAT requirements
Cost in-state / out of state
Undergrad, grad, or both offered
Region
State
City
Get the best rankings here AND get them to suit your personal needs. That's TheBestSchools.org advantage!
If you have any questions about our ranking methodology, please contact us.
Citations: For a broader account of our ranking methodology, especially as it relates to TheBestSchools.org's underlying educational philosophy and, in other ranking articles, looks beyond academic excellence (as here) to such factors as return on investment or incidental benefit, see our article "Ranking Methodology: How We Rank Schools at TBS." Reputation of schools and degree programs can at least in part be gauged through the school or department's publishing activity, citations, and desirability. At TheBestSchools.org, we keep track of such social and peer validation: "Making Sense of College Rankings." For nuts-and-bolts information about colleges and universities, we look to the National Center for Education Statistics and especially its College Navigator. Insofar as salary and inflation data are relevant to a ranking, we look to the Bureau of Labor Statistics. Finally, nothing beats contacting schools and degree programs directly, which our researchers often do, with the result that all the entries in this article should be considered as belonging to this citation!
The Best Online Master's in Gifted and Talented Education Degree Programs
Return to the top
Choosing a Program
Professionals who earn their master's in gifted education online equip themselves with the expertise needed to meet the unique academic needs of gifted students. Gifted teachers cultivate enriching learning environments that go beyond standard curriculum requirements of traditional classroom settings. Gifted education teachers receive specialized training that emphasizes teaching students with talent. Graduates of online gifted education programs demonstrate cultural sensitivity and knowledge of learning theories appropriate for the instruction of exceptional students. They possess the ability to select, administer, and score assessments.
Most master's in gifted education online curricula consist of core and specialized courses. Core courses familiarize students with common instructional practices used in school settings as well as current and historical theoretical perspectives of the field. Students examine the social and political factors that shape education and their role in the establishment of norms that bring about change. Frequent topics of a gifted education program include curriculum development, classroom management, and professional collaboration.
Specialized courses allow educators to choose a area of interest. Possible concentrations in this field include gifted education administration, gifted education in elementary school, and gifted education in secondary school. All degree candidates must complete a teaching practicum near the end of their program.
Return to the top
Online Master's in Gifted and Talented Education Careers
Featured Online Schools
Graduates of an online gifted education program work in instructional and administrative capacities in a variety of academic settings. The following careers are commonly pursued by professionals with a master's in gifted education. These professionals value student success and demonstrate patience and compassion in the classroom.
Gifted teachers at the primary level may see different groups of children daily or weekly. Their responsibilities include developing engaging lesson plans, communicating with parents, and maintaining a positive classroom culture. While the minimum degree requirement for elementary school teachers is a bachelor's degree, earning a master's in gifted education online expands employment opportunities.

Median Annual Salary: $55,490
Projected Growth Rate: 7%

Typically working with 6th through 8th graders, middle school teachers have similar duties as elementary school teachers. Gifted education middle school teachers may teach children who excel intellectually across a broad range of areas, or they may specialize in the instruction of students with high aptitudes in a specific subject such as art or music.

Median Annual Salary: $56,720
Projected Growth Rate: 8%

Job duties of instructional coordinators include developing schoolwide curriculum plans and training teachers in emerging evidence-based teaching practices. They frequently analyze data to assess school performance and implement strategies for improvement. A master's degree is required for employment as an instructional coordinator.

Median Annual Salary: $62,460
Projected Growth Rate: 10%
Source: Bureau of Labor Statistics
Return to the top
Popular with our students.
Highly informative resources to keep your education journey on track.
Take the next step toward your future with online learning.
Discover schools with the programs and courses you're interested in, and start learning today.