California Education
| TBS Staff
Are you ready to discover your college program?
California's Educational Legacy
Like the state itself, California's buffet of educational offerings is expansive, varied, and colorful. As the most populous state in the U.S. as well as the most economically fertile, California is also home to a formidable population of college and university students. Indeed, California is the site of literally hundreds of private schools while each division of its public higher education system is the largest of its kind in the nation.
With more than 200,000 students enrolled across the University of California's ten campuses as of 2011, an additional 430,000 at the California State Universities, and a remarkable 2.6 million studying at any of the state's 112 community colleges, California's higher education system is the largest in the U.S. These three major divisions of public college are the product of The California Master Plan for Higher Education, an encompassing policy authored in 1960 to guarantee free college admission to all California students who aspired thereto.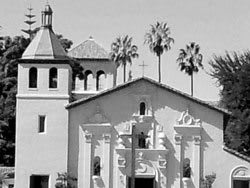 The result of this legislation would be an absolute explosion in California's population of college and graduate-educated students. Indeed, there are some who would argue that this policy played a significant part in helping California to become one of the most dynamic standalone economies in the world (let alone in the United States). Today, countless other states have aspired to this model by increasing the accessibility of community colleges and strengthening pathways from public school to public postsecondary education. With 150 public institutions and 153 non-profit private schools, California offers its residents more options than any other state in the nation.
Of course, some California colleges are tougher to get into than others. The state's top school — and one of the top schools in the world — Stanford University is located in the heart of the Silicon Valley. Contextualized by this singularly innovative and exciting region, Stanford is unique for having been founded as a secular institution in 1891. This distinctly unaffiliated status allowed Stanford to evolve into one of the nations' boldest and most diverse research universities. Indeed, the higher level of academic and intellectual discourse here is borne out by the fact that Stanford is actually home to more graduate students (roughly 9,000), than undergrads (just under 7,000).
In spite its staggering 8,000+ acres of campus space, Stanford's students enjoy a five-to-one student-to-faculty ratio. By extreme contrast, Claremont's Harvey Mudd College tops out at 44.5 acres, but its 700 to 800 carefully selected students enjoy some of the most rigorous education in the country.
Today, California ranks high in the nation with a 65.1% rate of six year graduation, ten points better than the national average. Still, efforts in the California legislature have focused on translating the state's enormous student body into a workforce decorated by valuable degrees. For instance, though California State awards roughly 100,000 degrees a year, the University recently said that it hopes to tack an additional 1 million graduates to that rate over the next ten years. Given the scale of California's economy and the challenges that come with it, there remains a healthy and constant need for degree-holding members of the future workforce.
Related Articles
11 California Universities rank among The 100 Best Universities in the World! They are: Stanford, UC Berkley, Caltech, UC Los Angeles, UC San Diego, UC San Francisco, UC Santa Barbara, UC Irvine, University of Southern California, UC Davis, and UC Santa Cruz.
Select California College & University Profiles
Popular with our students.
Highly informative resources to keep your education journey on track.
Take the next step toward your future with online learning.
Discover schools with the programs and courses you're interested in, and start learning today.