thebestschools.org is an advertising-supported site. Featured or trusted partner programs and all school search, finder, or match results are for schools that compensate us. This compensation does not influence our school rankings, resource guides, or other editorially-independent information published on this site.
Are you ready to discover your college program?
If you're interested in becoming a video game designer, be prepared to hone your skills in animation, art, narrative storytelling, and programming by completing internships and building your portfolio.
The video game industry surpassed a value of $165 billion in 2020, more than the value of North American movie and professional sports industries combined. As new innovations, free-to-play, e-sports, and online gaming drive interest, the sector is expected to reach a value of nearly $290 billion by 2026.
Video game designers may take on different roles, responsibilities, and titles as part of the profession. Read on to discover how to become a video game designer and learn about educational requirements, tips to securing employment, and possible career paths.
What Do Video Game Designers Do?
Video game designers can work on any or all aspects of a video game, including concept creation, animation, puzzle design, and narrative development. These professionals often collaborate with other artists, programmers, and content creators to develop a cohesive product. Lead designers typically manage this collaborative effort, ensuring contributions from their team of designers come together.
Game designers work on strategy, puzzle, simulations, sports, and online games. Depending on the genre they work on, designers may work with game engines, game maker software, and artificial intelligence. While the roles and titles may vary by employer, the following categories outline major video game design careers and how they might differ.
Video game designers can hold many creative roles on a development team, including content, mechanics, and level design. They envision how the game will look and then pass that on to the artists, developers, and programmers. Lead designers and developers may cover the same ground, depending on the organization.
Developers often manage the back-end technical aspects of the games. They handle production elements, coordinating the process of translating the game design into the final product. They may also work on user experience and quality assurance prior to launch.
Video game programmers work with both designers and developers to bring the vision of the game to life. They work in multiple programming languages to create the graphics, physics, sound, and user interface. Programmers and artists often collaborate to ensure artwork is accurately incorporated into the game.
Video game artists create 2D and 3D animations for games using sketching, game modeling, and special effects software. They typically work with designers to ensure their visions align. Some artists can write their own code to add their creations to the game, whereas others work closely with programmers and development staff
Where Do Video Game Designers Work?
Video game designers typically work for game publishers and development studios, but they may also work for software developers, design or graphics companies, and marketing organizations. Some game designers are self-employed and take on contract or freelance work.
According to the Bureau of Labor Statistics (BLS), software developers, art directors, computer programmers, and special effects artists all typically work regular hours in a collaborative office environment. However, deadlines may lead to busier schedules and longer hours. Many design-related positions allow professionals to work remotely when needed.
Video Game Designer Skills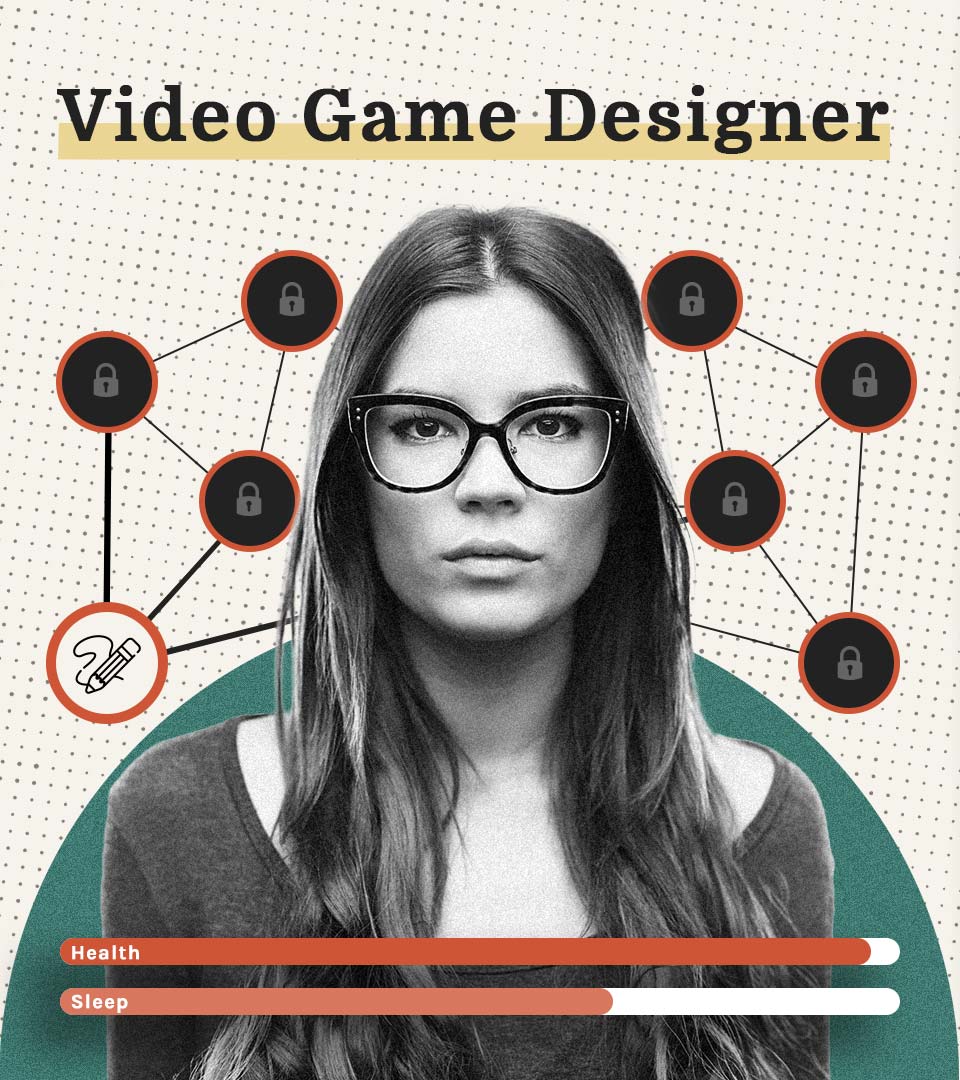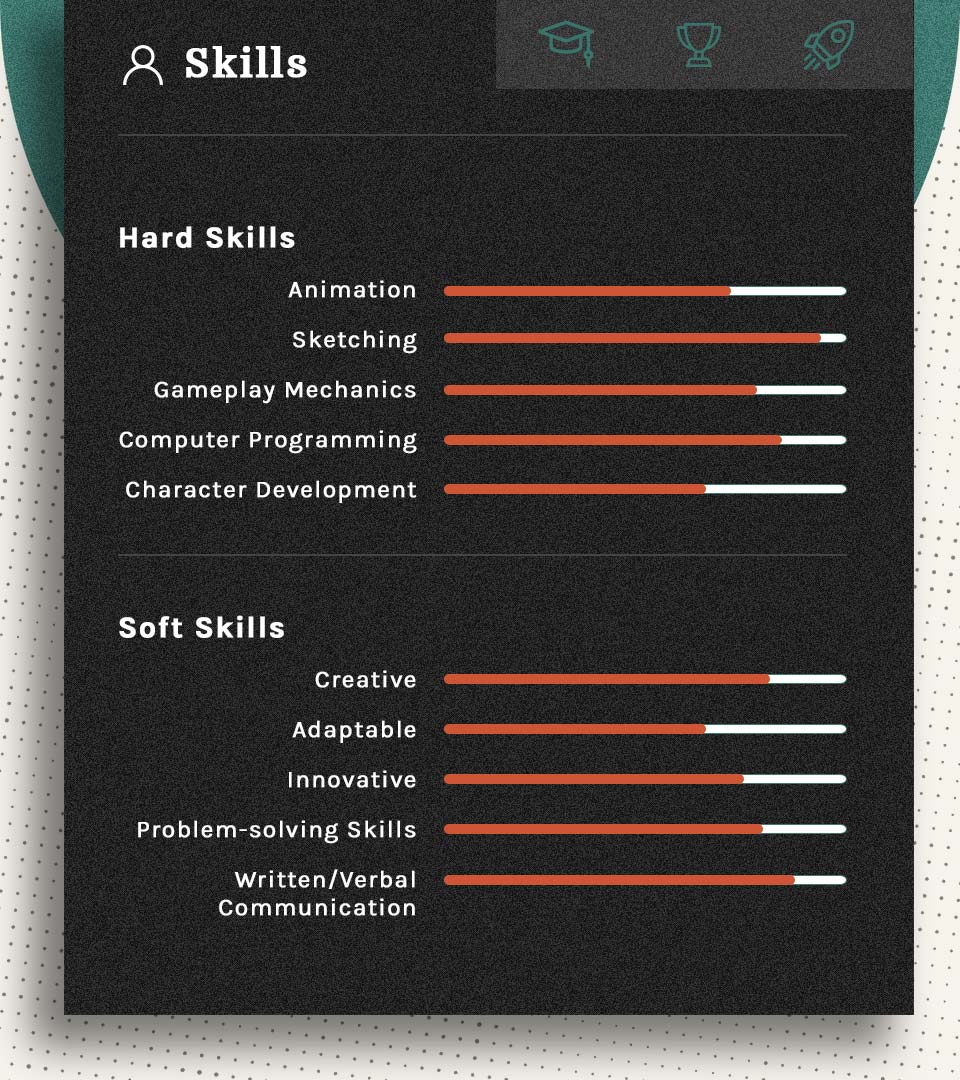 Video game designers need design skills first and foremost. They need to understand modern design tools, techniques, and game engines, along with interface, environment, and graphics software. Video game designers should also possess strong communication, problem-solving, and leadership skills to manage a product's many developmental stages.
Video game design also incorporates graphic design, programming, writing, and animation skills, so well-rounded game designers may have a greater impact and effectiveness as employees. Effective designers have a working knowledge of each of these areas, along with a familiarity of the media production and video game publishing process.
Prospective designers can pick up many skills on their own or pursue video game design degrees and certificates.
Steps to Become a Video Game Designer
The video game design field offers an array of entry points. Professionals and new graduates come from different disciplines, specializations, educational backgrounds, and experience levels. The following walkthrough shows the most typical and effective educational pathway into the career.
1.

Complete a Video Game Design Certificate or Degree Program

Most video game designers start their training with a degree or certificate program — 57% of designers possess a bachelor's degree, 19% have an associate degree, and 10% have some college training. Prospective designers may pursue a master's in entertainment arts or video game development, a bachelor's in video game design or fine arts in game design, or an associate degree in computer science or programming.

In addition to full degrees, the video game design field may accept candidates with game design and game programming certificates. Students in these programs typically complete training in digital graphics, sound and environment design, character modeling, and animation techniques. They also acquire skills in storytelling, audience immersion, and project management.

While the best video game design schools typically provide students with practical experiences to help them build their portfolios, learners can develop their own design examples to show employers. They can also attend design bootcamps or take online courses to develop their skills and hone their craft. While not a traditional pathway to the career, this independent route may lead to employment opportunities for some.
What to Look for in a Video Game Design Program
Choosing a video game design program requires some research and careful consideration, and it can help to know what to look for in a college. Most importantly, prospective schools should have regional accreditation. Without this formal recognition, the institutions may not qualify for federal financial aid and there is no assurance of quality for students and employers.
Prospective students should also look at the practical components of a program. Theory can be powerful, but hands-on training and internships give learners the opportunity to apply their knowledge, familiarize themselves with the job, and build real-world experience.
2.

Complete Video Game Design Internships

Internships provide an up-close look at the video game design profession and they can lead to professional references and career opportunities down the line. Students can take paid, short-term positions with employers to gain valuable experience and discover which areas of the field they enjoy most.

Learners may find internships in various sectors, including graphic design, development, programming, and animation. These placements can provide numerous short- and long-term benefits, so degree-seekers should take care to find the right internship opportunity for them and their unique goals.
3.

Build Your Video Game Design Portfolio

Most employers want to see what a game designer has done before they hire or contract them. A portfolio demonstrates how students have applied their skills to relevant projects in the past. Students can use class assignments, work from previous internships, and hobby design projects.

Students should approach every pre-employment task with the intention of including it in their portfolio. Test out new tools, use different software, and learn as many skills as possible. Strong portfolios typically include games the candidate has created and launched, the number of sales or downloads the games has accumulated, and examples of teamwork and leadership.
4.

Get Hired as a Video Game Designer

When it comes to landing that job as a video game designer, candidates have a few ways to increase their odds of success. First, they should make sure their portfolio is complete, diverse, and features intuitive navigation from section to section. Next, they should create a resume that highlights all relevant experience and education and catches the employer's eye.

After that, prospective video game designers should write a cover letter and prepare for the interview. As part of this process, they should research salaries so that they know the industry averages and can negotiate a starting salary. While the interview process can be nerve-wracking, applicants should try to relax, be themselves, and let their passion for the industry speak for itself.
5.

Keep Learning New Skills

Video game designers need to keep their skills and training current. As the field evolves and adopts new technologies and practices, professionals that steadily continue their training put themselves in a good position to succeed.

Professionals can pick up new skills and information at conference workshops, discussion groups and forums, and mentorship programs from professional associations. They can also enroll in Coursera courses and edX online courses or enter a game development bootcamp.
Video Game Designer Salary Information
Video game designer salaries can vary considerably depending on their role and employer. Knowing how much these professionals make can help readers decide which field they want to pursue and where to start their own wage negotiations. The following data examines the median annual salaries for common careers in the field.
Salary for Digital Design and Animation Careers

| Career | Median Annual Salary (2020) |
| --- | --- |
| Software Developers | $110,140 |
| Art Directors | $97,270 |
| Computer Programmers | $89,190 |
| Special Effects Artists and Animators | $77,700 |
| Web Developers and Digital Designers | $77,200 |
| Producers and Directors | $76,400 |
| Graphic Designers | $53,380 |
| Sound and Video Technicians | $47,420 |
Professional Organizations
IGDA connects game development professionals with a supportive and collaborative network in hopes of advancing the industry. The association advocates for game developers, promotes professional standards, and offers its members development and advancement opportunities.
ESA supports software professionals by advocating for better legal protections, standards, and policies within the industry. Members can access professional and regulatory guidance, industry research, and expert analysis.
AWIS promotes and fights for more inclusive policies and actions for women in STEM. Members enjoy access to career development, mentorship, and networking opportunities.
SACNAS is committed to improving inclusion at STEM organizations by advocating for more meaningful tech positions for Chicanos/Hispanics and Native Americans. Members can join leadership programs, conferences, and professional development workshops.
BIT strives to support and elevate Black professionals in the tech industry by offering mentorship and guidance, a supportive community, learning resources, and professional development opportunities.
Frequently Asked Questions
What Education Do You Need to Be a Video Game Designer?
Most video game designers possess a bachelor's degree. However, some employers may hire candidates with an associate degree or certificate and relevant experience.
What Qualifications Do You Need to Be a Video Game Designer?
Video game designers need a solid understanding of game engines, computer programming, graphics, and user interface software.
Do You Need a Degree to Be a Game Artist?
According to the BLS, artists and animators typically need a bachelor's degree for employment. Employers may also seek out candidates with specialized training and professional experience in the field.
Doug Wintemute
Doug Wintemute is a Toronto-based freelance writer with professional writing interests in higher learning and entertainment. He completed his BA and MA in English at York University, graduating summa cum laude and earning academic merit, research, and writing awards at both levels. Since 2014, he has contributed content and editorial work for award-winning digital trade publications, global SEO copywriting projects, and hugely popular online brands. He can be contacted through LinkedIn.
Header Image Credit: SDI Productions | Getty Images
Learn more, do more.
More topic-relevant resources to expand your knowledge.
Popular with our students.
Highly informative resources to keep your education journey on track.
Take the next step toward your future with online learning.
Discover schools with the programs and courses you're interested in, and start learning today.