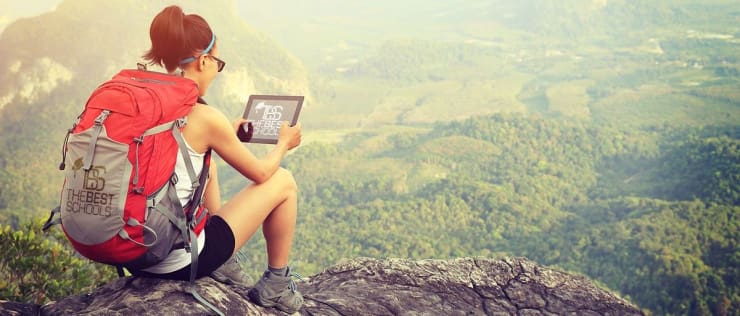 In the last decade, online colleges have grown in number, with many state universities and other reputable colleges and universities now offering online degrees. Ironically, both career goals and limitations serve as prime factors for pursuing online college degrees. Unlike the perception just a few years ago — that online colleges play a distant second to traditional, on-campus education — today, many graduates of accredited online colleges report high satisfaction with their choice to earn a degree online.
Many students enroll in online colleges because of the time advantages and flexibility that online degrees offers. Most people can't afford to put their careers on hold or rearrange their lives in order to earn a traditional, on-campus degree. Online schools provide a great alternative, allowing anyone to earn a degree that meets their goals in a flexible, affordable format.
Online College Accreditation
Academic accreditation functions as a seal of quality for online colleges and universities just as it does for traditional on-campus programs. It means that an impartial third-party organization officially recognizes the school as providing reputable programs and degrees. All of the online schools ranked here have regional accreditation. A degree from an accredited institution comes with approval and recognition of the US Department of Education, which in turn is recognized by other schools and employers as being of good quality.
A degree from a non-accredited institution comes with the risk of potentially not being viewed as a "real" degree by other schools or employers. Many regionally accredited colleges and universities, like state universities, will not accept credits from nationally accredited schools. If you ever want to transfer or get a graduate degree you may have to redo coursework — not fun!
Simply put: regional accreditation is the gold standard in higher education. When seeking the best online colleges, you want regionally accredited online colleges.
Skip down for more information about regional vs national accreditation, and programmatic accreditations.
GO TO: Frequently asked questions | 100 Best Online Colleges
Why Choose an Online College?
Many prospective students with full-time jobs, children, military duties, and those who live in remote or rural areas, cannot attend a traditional on-campus degree program.
The traditional classroom model simply doesn't work for everyone. Online colleges offer one basic solution to help overcome the myriad of life's obstacles: portable education.
Parents can stay home with their families, professionals can keep their jobs, military personnel can study while deployed — your world doesn't have to stop because you have to get to class. Not only that, with low overhead costs and special scholarships, online colleges can actually be more affordable than traditional on-campus programs.
Still wondering whether online college is right for you? Below are some quick answers to some of the most asked questions and concerns about online college degrees. Any degree program online or on-campus is a huge, multifaceted investment. Therefore, we also offer more in-depth answers in our Savvy Student's Guide to Online College for anyone with lingering uncertainties.
GO TO: 100 Best Online Colleges
Frequently Asked Questions
 

How do I know if an online degree is right for me?

Earning an online degree may not be the right choice for everyone. Before deciding on a program, students should ask themselves what kind of student they are, what their goals and motivations are, what they can handle financially, how they learn best, how organized they are, and if their personality is suited to online learning.

The answer is not about whether the quality of instruction will be there. The programs we've ranked will deliver high quality online education. The question is whether you will show up. Be honest with yourself. It's all about personal discipline.
 

Are online classes as good as in-person classes?

Online college programs, just like traditional courses, depend on the student. The best online colleges offer online courses with the same rigorous curricula and standards as their on-campus counterparts, and offer identical quality through a flexible online medium.

Online forums and meetings with professors, in many cases, offer better opportunities for engagement than classrooms where everyone sits quietly. Accredited online colleges must keep an eye on the quality of their curriculum and instruction or else they put their reputation and accreditation at risk.
 

Are online college courses cheaper?

When it comes to college online or on-campus, "cheaper" shouldn't be the operative term. Online college degrees typically cost less to complete than on-campus courses mainly because the reduction of other costs — living costs, transportation, opportunity costs (time).

Looking for the most affordable online colleges means you should start by looking at home. Students considering taking online courses from a college in another state will likely wind up paying out-of-state tuition prices, which can be unnecessarily expensive.

Students should seriously consider taking advantage of the in-state tuition discounts by finding their preferred online degree at a school in their state. Our Best Online College ranking allows you to filter by state so you can see your best local options.
 

Are online students eligible to receive financial aid?

Regionally accredited online colleges offer financial aid. Online students need to do their homework regarding the specific terms of their eligibility and adhere to FAFSA guidelines and deadlines, college guidelines and deadlines, be enrolled full-time, ensure the online college is regionally accredited, and meet other criteria.

GO TO: 100 Best Online Colleges
Ranking Methodology
Our ranking methodology includes a blend of data analysis and research (in areas such as academic excellence, strength of faculty, reputation, affordability, and range of degree programs), as well as the combined professional experience of our staff and Academic Advisory Board. All of the online colleges and universities listed are regionally accredited, nonprofit, and offer a range of online degree programs. Our goal is to identify and rank the best accredited online colleges available to ensure the greatest satisfaction among online students. Read more about our ranking methodology.