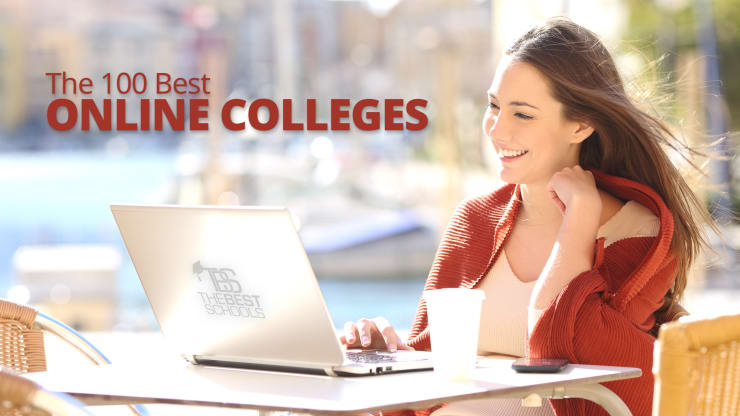 Online Colleges Are on the Rise
An online college or online university can help you achieve the education you want—often on your schedule and for less money. Many of the best schools now offer fully accredited online degree programs for bachelor's degrees, master's degrees, and even doctoral degrees.
More and more top colleges are expanding their online degree programs every year, so we update this list of the Best Online Colleges annually so that you find the school for you.
Maybe you're on the fence: Are online college degrees legitimate? (Not all of them are.) Can you earn your entire degree online? (That depends on which program you choose.) Are online degrees respected? (That depends on both the type of degree and school reputation.)
Consider this: students attending college online report the highest level of satisfaction with their college education experience — twenty-one percentage points higher than students who attend traditionally!† In other words: after weighing your options, if your decision hangs on whether you should enroll at an online college vs. on-campus, you're more likely to be happier choosing an online program.
Find the Best Online College for You
With 100 accredited online colleges in our ranking of the Best Online Colleges for 2018, one is sure to fit your needs. And though online education knows no boundaries, attending an online college near you can be a smart choice: you can be eligible for in-state tuition breaks, you may live close enough to access campus resources, and future employers may prefer graduates from known regional schools. So, alongside our list of the 100 best online colleges, we're also listing the top online colleges in each state.
So, which is the best online university for you? Look below to find out!
⁂
How are these online colleges and universities ranked?
This ranking of the best online colleges and universities is based on extensive research and familiarity with American online education. In formulating this ranking, we looked to such factors as academic excellence, scholarly strength of faculty, online teaching methods, tuition costs, reputation, awards, regional accreditation, financial aid, and range of online degrees offered:
TheBestSchools.org's 2018 ranking of the 100 best online colleges identifies those nonprofit online colleges that are the best at delivering a high-quality online education. All are regionally accredited online colleges or universities. Note that traditional campus-based schools — however good their reputation — appear here only if they deliver online instruction effectively and offer a wide range of online college degrees.
Find the exact online degree you want!
Online Associate's | Online Bachelor's | Online Master's | Online Doctorate's