Tarleton State University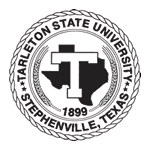 Tarleton State University is a state university located in Stephenville, Texas. It is part of the Texas A&M University System, and is one of the largest non--land grant universities devoted primarily to agriculture in the nation.
Tarleton State University has more than 9,400 students at two campuses. The institution provides a variety of undergraduate and graduate degree programs. The E-Campus provides both online baccalaureate completion programs and online master's degree programs.
The university is known for its horse production program and innovative teacher education programs. It is a national leader in educating agricultural education teachers.
Researchers at the Center for Agribusiness Excellence seek to improve the integrity of the U.S. Department of Agriculture Risk Management Agency delivery of services to farmers.
Tarleton State University has one of nation's largest and oldest public school improvement partnerships, helping over 50 area school districts.
Students Also Viewed These Schools