The 10 Most Influential Ads You Might Not Expect
thebestschools.org is an advertising-supported site. Featured or trusted partner programs and all school search, finder, or match results are for schools that compensate us. This compensation does not influence our school rankings, resource guides, or other editorially-independent information published on this site.
Are you ready to discover your college program?
Free resources fill every corner of the internet — but how do you know which to trust, and how do you gain value without giving more than you get?
Do you know how to navigate the world of online advertisements responsibly? And do you know how to direct others to do the same?
College students are no strangers to potentially harmful online ads. By building up your media literacy — and questioning what you see and hear — you can leverage the internet to meet your needs without letting advertisers take advantage of you.
Read on for our primer on getting the most out of the internet while avoiding the pitfalls of advertisements when looking for deals, information, and inspiration online.
Advertising: Initially meaning any public notice, this term is now typically reserved for paid ways to get something to the public's attention.
Content Marketing: A form of marketing that uses valuable, share-able, and educational content — like blogs or webinars — to turn readers into customers or brand ambassadors.
Influencers: Social media personalities who use their platforms to promote ideas, lifestyles, products, or services. Some influencers receive compensation in exchange for persuading their followers to buy certain goods or services.
Paid / Product Placement: Online paid placement typically takes place in search engines or on websites. Product placement can also take place in TV or movies. In both cases, advertisers pay to have their products used or displayed in front of potential customers.
Promotions Initially all about boosting development, this term now typically refers to using advertising, publicity, or a sale to familiarize people with a product and encourage them to use it.
Why Are Advertisements So Common — and Influential?
Advertisers create advertisements to make money. If an advertisement is successful, it will makes a company money and help that company rise to a dominant position in the market and gain market share.
Advertisements work by making the public aware of specific companies and their products, propagating brand loyalty by presenting those products with pleasing imagery. In other words, when advertisers market a product using aesthetically or emotionally appealing imagery and music, consumers will associate that product with the pleasurable feeling of the ad.
This positive association with a product can also happen when you frequently see that ad on a website that you enjoy using. That positive association will make you more likely to choose that product or service the next time you are in a position to buy it.
Are Promotions Always What They Seem?
Sales promotions are an advertising tactic that you can take advantage of — but should also look at warily. Advertisers often attempt to boost sales for a particular product by offering online flash sales with huge discounts for a limited time or through buy-one-get-one-free deals at key times of the year.
"Flash sales often create a false sense of urgency, implying that if you do not take advantage of them now, then you will miss out forever."
Though these promotions are opportunities to get value, they can also be manipulative. For example, flash sales often create a false sense of urgency, implying that if you do not take advantage of them now, then you will miss out forever. Realistically, advertisers benefit from misleading you about the product's scarcity, which can make you want to try it when you might not otherwise.
Some advertisers also use promotions to collect consumer data, asking you targeted questions about what future offers might interest you. This data can influence what targeted advertisements you see in the future.
Content Marketing: How Do You Know What Is Good?
Many brands advertise products and services through content marketing. Content marketing is a niche in media that promotes brands and companies while publishing a consistent stream of content meant to attract a certain audience. This content often takes the form of informational materials, such as blogs or webinars.
The goal of content marketing is to convince customers to interact with a brand, product, or service by offering content that showcases its merit. For instance, a blog associated with a brand of headphones might promote its products by posting reviews about them. This content is meant to engage with consumer's interests and spread brand awareness.
The wide range of content marketing on the internet can be a little bewildering to college students who are targeted by this advertising format. Plenty of content marketing offers useful, reliable information, but not all of it does. Fortunately, when looking at content marketing, there are a few techniques you can use to assess its credibility, accuracy, and validity.
When evaluating content writing, remember that substantive content will both tell a story and cite real facts and information. Start by checking whether or not an article properly cites sources. If the content is trying to tell a story without supporting its claims, then the story likely isn't trustworthy. Fabricated statistics are a red flag, and if you can't figure out where the data came from, that's often a sign that it isn't reliable.
What About Paid Placement and Influencers?

Paid placement is another common advertising tactic. This often takes the form of product placement in TV or movies, but even more sophisticated forms appear on the internet.
Many online advertisers utilize pay-per-click advertising, meaning that they pay websites for user traffic each time a visitor clicks on one of their ads. Online advertisers also pay social media influencers to endorse their products.
The prevalence of online advertising has led to consumer protection laws that require advertisers to label their ads for consumers. Search engines typically mark paid placement ads in search results with "Ad," while many websites and influencers use hashtags or keywords to identify paid content.
When looking at internet content, it is important to note when a website, search engine, or influencer has marked content as an ad. If an endorsement of a particular product, service, or brand comes is marked as an ad, you should take the endorsement with a grain of salt. If it is not marked as an ad, then it was not explicitly paid for, and you can trust that the review arose from a nuanced opinion, giving it more credibility.
Be wary of information marked as advertising material that also claims impartiality. Advertising does not attempt to avoid bias because it isn't trying to accurately informing you — it only wants to profit off of you.
Get Value Without Getting Fooled
The prevalence of internet advertising can seem overwhelming, and it may inspire cynicism. However, you can navigate it safely if you know what to look for — what to avoid.
Commercials, promotions, and content marketing venues all offer opportunities to access useful information, purchase products and services that you need, or find creative inspiration — as long as you use your media literacy skills.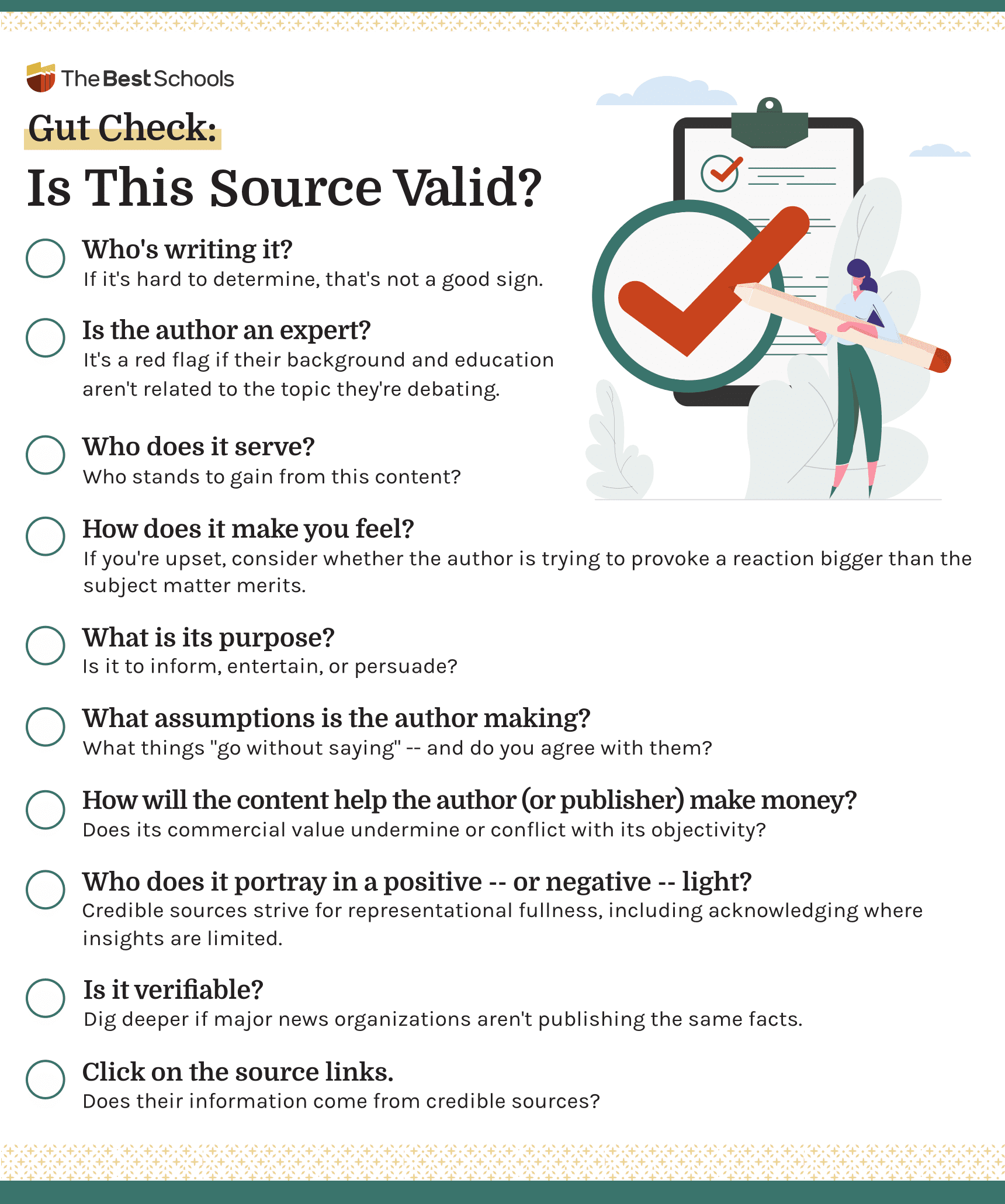 Media literacy is the ability to look at media and critically analyze it. It's asking yourself questions like: Is this blog's review marked with a disclaimer that it is not a paid ad? Has this influencer marked their post to Instagram with the hashtag "#ad"?
Bringing a critical eye to the internet helps you be more aware of who deserves your time and who is a reliable source, so you can avoid making unnecessary purchases or unnecessarily giving away personal information.
Ultimately, your goal is to take away more than you give to advertisers. For instance, content marketing sources should serve you, not the other way around. Question content marketing sources that use clickbait or bad content, attracting your attention without providing properly cited, unbiased information in exchange.
Similarly, when looking at sales promotions and similar materials, question the sales tactics used. Ask yourself: Is this product something you really need? Does this deal actually seem time-sensitive, or is it creating a false sense of urgency?
Try to practice safe internet browsing habits, too. Clear your internet cache and history every time you close your browser to minimize websites tracking your activity. Install antivirus software on your computer to check for potential threats. Finally, do not give away personal information to advertisers unless it is absolutely necessary.
Frequently Asked Questions
Can Advertising Be Misleading?
Advertising sometimes purposely misleads consumers, because the end goal of advertising is to inspire you to purchase their products and become loyal to their brand. It is best to check with several sources when doing research to ensure that you are not being mislead.
It's best to show healthy skepticism of those who call themselves influencers, since most are trying to make money from paid placement ads. There are plenty of reputable influencers, but if somebody is cagey about whether something is an ad or not, that's not somebody you should trust.
How Do I Protect My Privacy Online?
You can take a variety of steps to protect your online privacy. First, do not give your personal information out to advertisers if you can avoid it. Delete cookies when you finish using the internet, and consider browsing in private or incognito mode when using the internet to research products or services.
Matthew Sweeney
Matthew Sweeney received his Bachelor of Arts in English with a specialization in English literature from Portland State. His writings on music and culture have appeared in the publications Eleven PDX Magazine and Secret Decoder. In his free time he enjoys reading, cinema, hiking, and cooking.
Header Image Credit: SDI Productions | Getty Images
Learn more, do more.
More topic-relevant resources to expand your knowledge.
Popular with our students.
Highly informative resources to keep your education journey on track.
Take the next step toward your future with online learning.
Discover schools with the programs and courses you're interested in, and start learning today.